By Naomi |
19
November 2021 |
0
Comments
HOW MUCH DOES A MALE TOUPEE COST?
The most frequently asked question from a customer is, "How much do toupees cost?". There are numerous factors that can influence the exact cost." In this blog, we will discuss each factors and how does it affects the cost of the toupees.

The cost of hair systems is determined by the type of hair toupee you require, as well as your order details, which include the base design, hair type, hair length, hair density, and hair color. The cost of various types of hair systems varies greatly.

MANUFACTURING METHOD
The cost of a full machine-made wig or wefts, for example, is very low. This is due to the fact that they are entirely machine-made, resulting in a low production cost and a short production time. The price of half-machine-made/half-handmade wigs is higher than the price of full machine-made wigs. If you require 100% handmade hair systems, the price will be even higher, and the production time will be much longer.
Because the cost of handmade pieces is much higher than the cost of machine-made pieces, the cost of full lace wigs is much higher than the cost of lace front wigs, and the production time of full lace wigs is also longer. As a result, the price of a hair system is related to whether it is machine-made or handmade.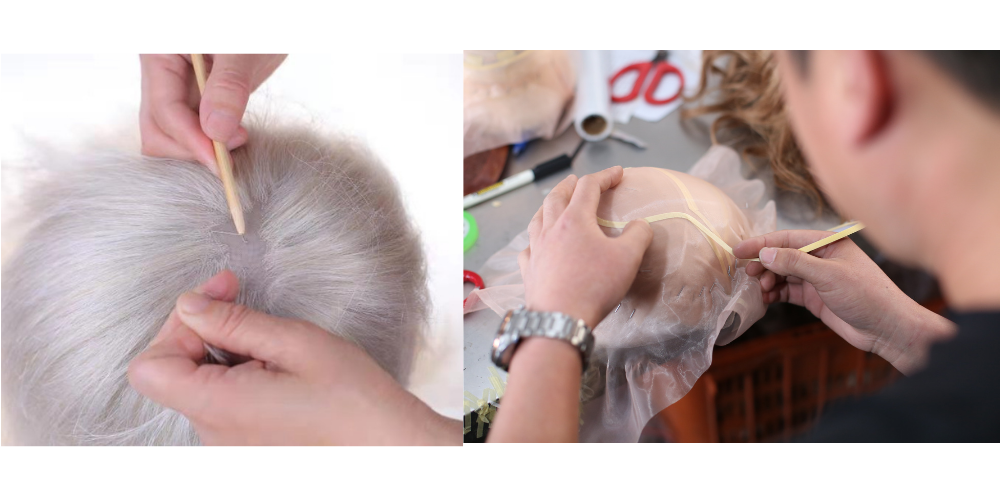 ORDER REQUIREMENTS
The price of a hair system is determined by the order requirements outlined below. Prices can vary greatly depending on the requirements.
1. Base size
If the base size is standard (less than 8"x10" but bigger than 4"x4"), the cost is higher but lower than sizes bigger than 8"x10". If the size is over 10"x10", the price is even higher.
2. Base design
Complicated base designs necessitate longer production times, resulting in higher costs than simple base designs. Lift injected bases, for example, are very time-consuming, and as a result, the cost of production is higher, making lift injection more expensive.
Other bases, such as French lace and Swiss lace, are imported from other countries, so the price is slightly higher. Skin base costs depends on its thickess. To rank the cost from higher to lower, French lace comes first ($329), next is mono($230), then skin ($169). These are just a few examples of how the price of a hair replacement system is related to the base design.
3. Hair length
Long hair, as we all know, is more expensive than short hair. As a result, the overall cost of a hair system is proportional to the length of the hair. The cost is unaffected if you require short hair (between 3" and 6"). However, if you require longer hair, particularly hair longer than 20", the price is high because the cost of sourcing long hair is also very high.
4. Hair type
We offer a variety of hair types, including natural Indian hair, Indian Remy hair, Chinese virgin hair, and European hair.
Normal Indian hair has lower sourcing costs than the other three hair types, so we charge less if you order it. Because the cost of the other three types is high, especially with long hair, we must charge you more.
5. Hair Density
It is reasonable to anticipate that the cost will rise as more hair is knotted to a hair system. We only charge extra for hair densities of medium-heavy or higher in our factory.
6. Rush Service
If you need a custom-made order quickly, we can offer rush or super-rush service to reduce production time. Rush service and super-rush orders become top priorities, and we must pay our technicians overtime to complete the orders in a timely manner. As a result, the cost is higher than in standard production.
Custom orders have a production time of about two months, so we recommend placing new orders in advance according to our production turnaround time and avoiding our rush or super-rush service. You will have backup hair systems and will save money on rush service charges if you do this.
7. Quantity
The cost of the toupees will be determined by the order you place. If you order a larger quantity of men's hair toupees, you will pay less per unit. However, if you order fewer items, you will pay more per unit because shipping costs will be distributed amongst fewer products. It is also critical to consider shipping costs when calculating costs. When the quantity is large, the weight of the package is heavy, and the shipping cost is also high.

To summarize, the cost of a hair system is determined by a variety of factors, and a definitive answer is not always possible. However, keep in mind that if you consider all aspects of a hair system's design as well as the actual needs of your customers, you will be able to reduce the amount you pay for your hair systems.

Do you have any remaining concerns about the cost of toupees and hair systems for your business? Speak with our friendly team at Lyrical Hair to get answers to all of your questions. We are here to assist you!



Leave a Reply
Your email address will not be published.Required fields are marked. *