LyricalHair Non Surgical Full Poly Hair Systems For Men,Thin Skin Easy Wear Men's Toupee, Comfortable and Durable Men's Hairpieces
Model Name: PAPY
$329.00 $230.00
Discount
GET

$39.00

OFF $399.00
GET

$79.00

OFF $799.00

*Undetectable, all skin base.
*Does not discolor from perspiration ­– Worry nothing about the climate, because your hairpiece will never let you down!
*Brush, comb, or part in any direction ­ - You can still express yourself and get ahead in hairstyle or fashion with the System.
*No need to consult an expert for maintenance is required – No need to spend more for professional consultation and services, then, later on, find out that your hairpiece maintenance is just actually as easy as 1-2-3!
*Normal thickness but very light ­– The poly skin base does the works for your convenience and comfort.
*Natural hairline
*No deterioration
*Front cap definition is invisible
*Made manually – Feel extra valued with your manually created hairpiece. Be assured of nothing but craftsmanship!
*With or without ventilation holes or scalloped front
*Base material colors: clear, flesh, black, brown, light reddish-brown, yellow, or any other color you prefer
*Made for any hair – Speak out your preferred hairpiece, and the System can grant you your wish. Do not worry about your extraordinary type of hair, who knows, you might just set the trend now!
*Can be Custom-made to your hair color, highlight, and % gray content.


MODEL NAME: PAPY
| | |
| --- | --- |
| BASE DESIGN: | ALL SKIN BASE; Clear Poly |
| BASE SIZE: | *Check available sizes above* |
| MANUFACTURING METHOD: | Hand Tied |
| STOCK: | YES |
| Can be Customized: | YES |
| HAIR TYPE: | Indian Remy Virgin Hair; Gray hair is synthetic |
| HAIR LENGTH: | 6 Inches |
| HAIR WAVE: | 32mm, Slight Wave |
| HAIR STYLE: | Freestyle |
| HAIR DENSITY: | *Check available hair density above* |
| AVAILABLE HAIR COLOR: | *Check available hair color above* |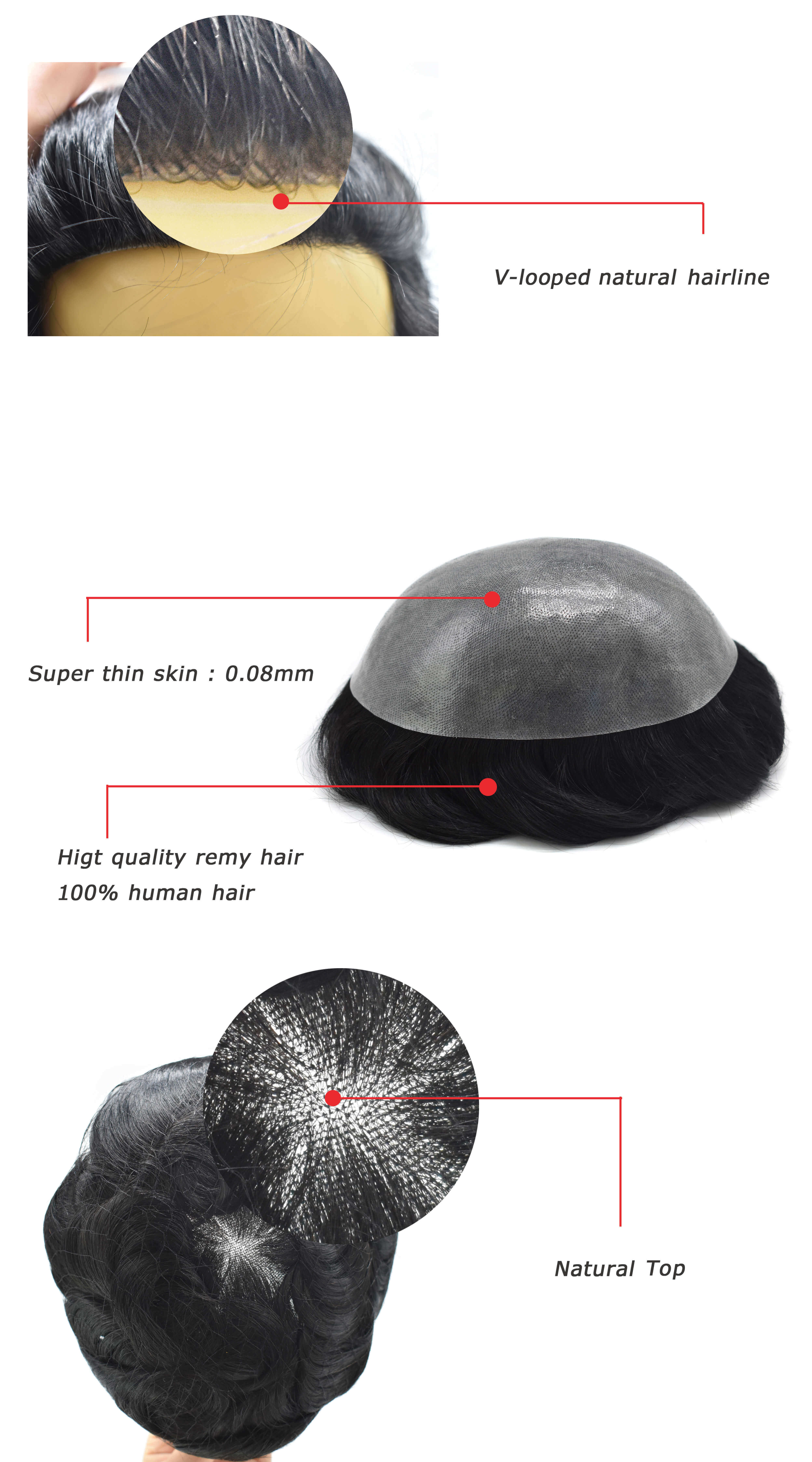 IMPORTANT NOTE:
1.To ensure the best performance and purchase experience, we recommend consulting with a professional to get your accurate color and size preferences.
2.There could be some slight differences between the color tone of the photo and the actual item due to the effect of light and the different monitor's brightness.
3.DELIVERY TIME: Stock Orders (3 days), New Custom Orders (4-6 weeks)
4.Please carefully inspect your unit prior to installing, cutting, coloring, or making any adjustments. If any changes have been made, or the unit has been used, we will not accept any returns.

Here are some reminders we want you to know:
1. All of our stock units are shipped without cutting and styling. We do not currently provide a cutting service.
2. The single-colored system pictured here is just for reference. Hair color may vary slightly from the photos.
3. If you are new to wearing toupees, we advise you have a professional hairstylist attach the unit to your head. We are not responsible for tearing off the hair system due to improper using method.
4. Eeka Hair Toupee is based on our factory's huge inventory and wholesale business. We ship more than 6000 pieces of custom and stock orders all over the world every month.
Good quality, Competitive price, and Professional service are what you will get here!